SBS introduces brake discs
Leading motorcycle brake pad manufacturer, SBS Friction, now introduces brake discs as part of the product range.
The new SBS disc range is dedicated to riders who appreciate quality components on their bikes. The SBS discs are "Made in Europe", and designs are based on the company's extensive know-how within braking and brake components.
The programme comprises three lines: The standard range which meets the demands for OEM replacement offering durable and comfortable braking, the SBS Signature discs that are specifically designed to increase brake feel, performance, comfort and looks. Finally, the SBS programme includes oversized discs especially for offroad use.
All in one brand
"We have been in braking for more than 50 years. We offer the most comprehensive brake pad range in this market. Together with the brake discs as well as brake shoes and accessory parts such as brake pins, we are now able to offer a very strong and attractive product portfolio, underlining our status as the brake specialist," SBS CSO, Christel Munk Pedersen, states.
Christel Munk Pedersen is sure that SBS customers will benefit from the extension of the product range:
"Our distributors will now have all frequently sold brake wear parts in one unique and well established brand, SBS. This will support their sales and marketing activities. On the logistics side, they will be able to improve order handling and logistics operations due to "one-stop brake parts shopping". Last but not least our customer support with commercial and technical services will be at our customers' disposal for a wider range of products".
Range with different options
The SBS disc range comprises three basic lines:
STANDARD
Shape, construction and dimensions according to OEM replacement disc. Typically SBS STANDARD has a round contour and is preferred by riders who want to stand by the original visual appearance of their bike.
UPGRADE - SBS Signature Design
The SBS Signature Design discs feature characteristics that differ from OEM standard replacement. It offers increased performance and design features that improves the capability to get friction material constantly cleaned off the disc surface. With its SBS Signature Design, the line also appeals to those who want visually to upgrade their bike and stand out for mainstream looks.
OVERSIZE
Discs with larger diameter compared to OEM replacement, typically used for offroad front brakes offering increased stopping power and better brake feeling.
Matching quality
When it comes to quality, it has been important for SBS to offer a product range that matches the high level of the SBS brake pads.
"We are known for delivering a high quality standard with focus on performance, comfort and durability. On the disc side we have not accepted any compromises. The SBS name is thought as a quality stamp and is our customers' and the riders' guarantee for a product on a very high level on all important parameters", concludes Christel Munk Pedersen.
For further information:
SBS Friction A/S
Christel Munk Pedersen, CSO
Tel: +45 20 63 41 33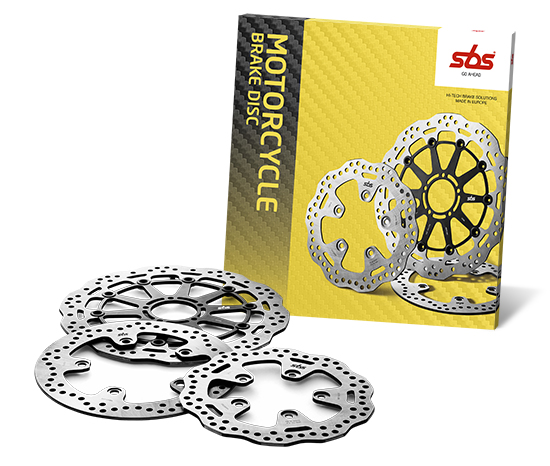 SBS now introduces a comprehensive range of motorcycle and scooter brake discs. Among the available shapes is a special SBS Contour Design.