The SBS range of brake discs is developed in accordance with our world famous, recognized SBS disc brake pad range.
This means that for most reference numbers in the SBS brake pad range, you can find a corresponding SBS brake disc.
The SBS brake disc range
The SBS brake disc range comprises three basic programs, making it easy to choose according to individual needs:
SBS Standard Brake Discs 5XXX
The SBS STANDARD disc range includes round or similar standard shape either with fixed or floating construction.
The SBS STANDARD range generally corresponds to the originally fitted brake disc.
SBS Upgrade Brake Discs 6XXX
The SBS UPGRADE disc range gives you the opportunity to upgrade your brake discs with something more spectacular.
With the SBS UPGRADE you can change your standard round/fixed disc into for example a floating or SBS signature contour version etc.
SBS Oversize Brake Discs 7XXX
The SBS OVERSIZE disc range is especially developed for off-road front brake use for more stopping power and better brake feeling.
Find the right Brkae discs for your bike by using our product selector
You might also want to check out our brake shoes with springs or clutch kits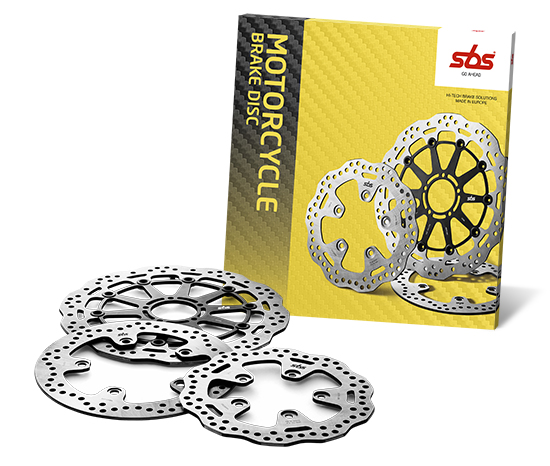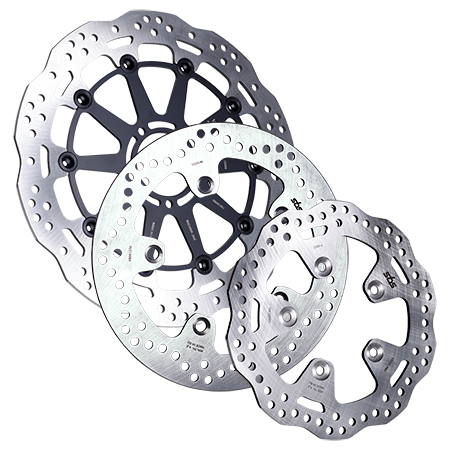 Round
The round shape is the design predominantly used by OEM manufacturers.
It is classic, practical and preferred by many riders who want to stand by the original visual appearance of their bike.
SBS signature contour
SBS has developed a trendy, unique signature contour brake disc design appealing to those who want to differentiate their bike from mainstream.
The SBS signature contour adds dynamic visual effects to the brake disc. Further it ensures that the friction material is cleaned off from the disc surface, prevents noise and vibrations and reduces weight.
Oversize
Discs with larger diameter dimensions in round or SBS contour design.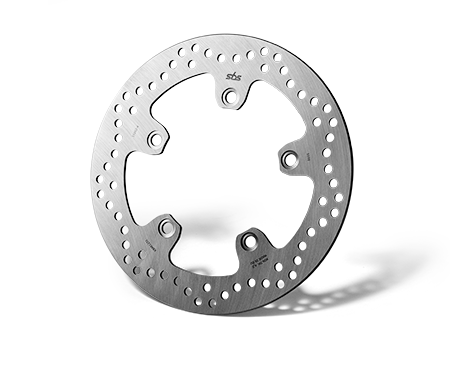 Front and rear mounting
High quality stainless steel with high carbon content
Low weight
All fitting dimensions according to originally fitted disc
Excellent brake performance and stopping power under all conditions
Long lifetime even when used in aggressive environment
High comfort level – no noise, no vibrations
High temperature resistance
Anticorrosion treatment
Ideal with all SBS brake pad compounds
Heat-treated stainless steel center hubs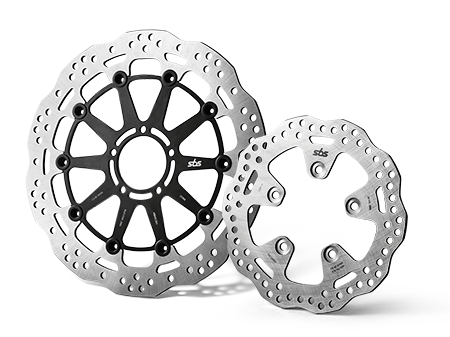 Front and rear mounting
High quality stainless steel with high carbon content
Low weight
All fitting dimensions according to originally fitted disc
Excellent brake performance and stopping power under all conditions
Long lifetime even when used in aggressive environment
High comfort level – no noise, no vibrations
High temperature resistance
Anticorrosion treatment
Ideal with all SBS brake pad compounds
Heat-treated alloy or stainless steel center hubs
For oversized disc, caliper mounting set is included
All oversized discs are floating
All the venting slots are designed for best cooling and performance
Find the right brake pads, discs or clutches for your bike
Select the fields in any order