THE BRAKE FRICTION EXPERTS
Choosing a partner supplier for a safety product is a very important task for any organization, and when you choose SBS Friction you start working with a very competent team.
With a production of more than 7M brake pads every year, and a brake pad for practically all makes and models of motorcycles, ATV/UTVs, and other brake applications, SBS Friction has proven it's worth as brake friction expert in an uncompromising industry over many years.
SBS Friction has existed since 1964 and we have built considerable experience as the leading brake pad supplier for the MC market. In total, our factories cover an area of 11,000 sqm, based extensively on robotic production technology. As per 2019, our staff totals approx. 100, and we are continuously growing in order to follow the demands of our customers.

SEVERAL PRODUCTION TECHNOLOGIES AND LEAN MANAGEMENT

We master all technologies within ceramic, sinter and conductive sinter, and are therefore able to provide a compound suitable for your specific application and with the exact characteristics you want to offer to your customers.
SBS Friction builds its operation on a LEAN architecture and controls everything in value streams. LEAN processes are implemented in all factories and offices. Our organization is very effective with top management present at LEAN meetings every single day.

IN-HOUSE R&D & TEST FACILITIES

Our experience and extensive in-house technological development and state-of-the-art manufacturing gives you a number of advantages:
Extensive choice of existing compounds
10 years of experience with supplying OEM customers
Own dynamometer and test vehicles with data logging
In-house competences in conducting thermodynamic calculations
We conduct process capability studies to monitor production equipment and work processes, and test tolerances, compressibility, shear strength, friction coefficient, and other specific characteristics on in-house test equipment. We use statistical methods that detects outliers and deviations in the products, and this documents our continuous strive for improving quality.

SBS is trusted by leading motorcycle producers and wind turbine manufacturers. Please ask for references.
SBS has integrated procedures for
APQP procedures for project management and implemented in quality management system
Adaptive SBS Friction PPAP standard implemented in QMS and accepted by leading brands
Very high delivery performance
Monitoring and optimization of process parameters
SBS is ISO9001 certified and successfully audited by leading OEM customers.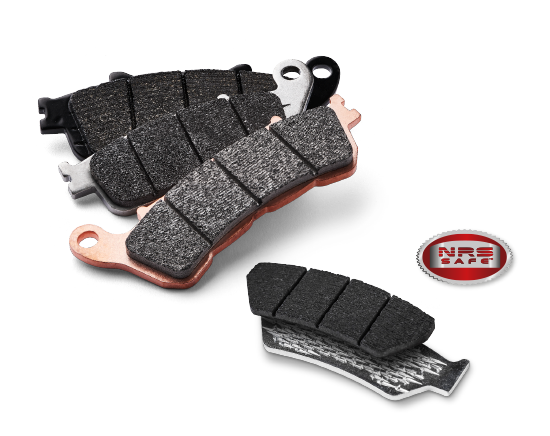 We test the compounds on our own dyno with Link data interface for documentation. And when it comes to real-life testing, we have a team of top level world riders and race teams testing new compounds under extreme conditions. This guarantees the right quality, which complies with TÜV, ECE R90, SAEJ2522 and AK Master standards.
At SBS Friction we are used to working with OEM customers, and have experience in developing and selecting the right compounds and adapting to specific customer applications.
SBS Friction has supplied OEM brake pads for a broad range of applications for MC, power sport, industry, wind turbines, bi-cycles, and auto sport, and we know what it takes throughout the whole process from first inquiry to continuous delivery.
In the first phase, compounds for OEM projects are carefully chosen by the APQP team based on customer input. In our experience this gives the best possible basis for a good co-operation with a valued OEM customer.
COMPOUNDS FOR DIFFERENT APPLICATIONS
Our competent and innovative in-house chemical engineers develop compounds optimized to suit the specific requirements in your application within street, race or off-road MC, ATV, race car, bicycles or mountain bikes even in industrial applications such as wind turbines
COST OPTIMIZATION
We continuously analyze chemical raw materials and steel quality for back plates to assess cost optimization potential, and continuous improvement of back plate adhesion technology both with mechanical bonding and soldering makes sure the best quality is achieved at lowest possible cost. Therefore we also have own storage and packing facility optimized for OEM production.
HIGH QUALITY - MAXIMUM SAFETY
When we supply to OEM customers we practically take on the role of optimizing quality of your brake pad. We utilize mechanical bonding with NRS technology both on ceramic and conductive sinter products because it ensures high shear strength and maximum safety margins for MC riders.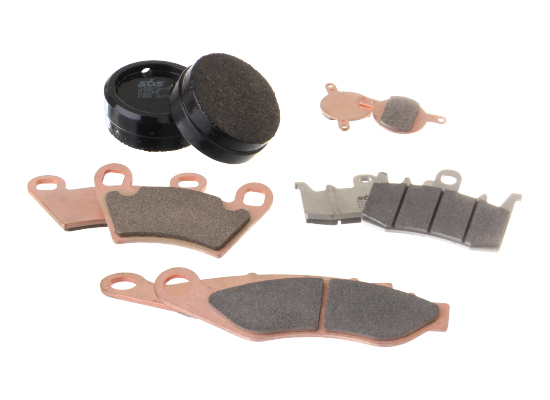 If you are working in another industry or application area, don't hesitate to ask about the possibilities of having a special compound made for you.
MOTORCYCLE
In 2012, SBS Friction chose to introduce conductive sinter technology. This process allows pads to be manufactured under pressure in a controlled environment with inert gasses yielding extreme control of process parameters. This results in performance improvements not possible with other technologies.
Initially, SBS Friction focused on the medium segment with relatively high coefficient of friction specific to the street performance segment. Fade performance and friction stability during sporty riding , good modulation, edge stability, and swell were all part of the extreme design demands.
Not long after bringing the new compound to market, several of the world's leading MC manufacturers fell in love with this technology and also wanted to join the ride. Since then SBS Friction has developed the second generation conductive sinter brake pads with even higher performance, and today it is supplied to different street performance MCs and Adventure bikes.
OFFROAD
Together with a leading manufacturer of Enduro bikes SBS Friction conducted blinded tests with different brands of brake pads. The brake pad had been developed after a detailed analysis among own off-road and race teams.
Based on test results, SBS Friction recommended sintered pads for both front and rear. The recommendation was based on the extreme focus on performance in this segment.
In the following blinded test, SBS Friction pads won the contract for both the front and rear calipers.
POWERSPORTS
The high-end SSV segment is home base to SBS Friction, and we know all the priorities of the riders. Our vast experience includes e.g. a leading team from the Baja 1000 race.
In one specific case, a major brake system supplier contacted our expert team to have a dialogue about how performance for the brake system could be improved for a high-end ATV.
SBS Friction accepted the challenge, and conducted a design workshop with the customer addressing the key challenges with current pads. The wide range of technologies were evaluated against performance parameters decided by the customer. Next step was to conduct dyno tests and evaluate the test results with the system supplier. Based on an evaluation of test results, SBS Friction proposed 3 potential compounds and complete brake systems were supplied to the manufacturer together with a customized selection guide. With the selection guide, not only had the customer several combinations of compounds for the front and rear applications, also it provided a test sequence to quickly find the best combination of front and rear pads.
The result of the process was a documented increase in friction level and stability as a function of pedal force and significantly improved wear characteristics. All of this without changing any components in the brake system itself.
INDUSTRIAL
A leading world-wide wind turbine manufacturer turned to SBS Friction for a solution to a friction problem.
Due to the very tight space in a wind turbine nacelle, the manufacturer wanted to protect the components located close to the brake system from heat. At the same time they wanted to maintain extreme performance parameters at high temperatures.
After careful consideration and analysis, a ceramic compound originating from auto sports was recommended, since it had similar specifications in terms of low heat conduction and high and constant performance at a small size, but all adapted to customer specific requirements.
Since then, SBS Friction has delivered thousands of brake pads to the wind turbine industry.